Bobbie Thompson


Bobbie Thompson received an undergraduate degree in Humanities from The Lemoyne-Owen College and her Master's degree in Social Work Administration from the University of Tennessee at Memphis. She has received numerous certifications in Customer Service and has been a trainer in that subject for employees across the State of Tennessee and those in Not-for-profit and private organizations.
She is very active in the Monumental Baptist Church under the leadership of Reverend Samuel Billy Kyles.
Mrs. Thompson has served as "the VOICE" of the Rainbow PUSH Sunday night broadcast since 2007 and joined the WLOK family on "Let's Talk About It" in September 2013.
A mother and grandmother, her passions are children, senior citizens and those who find themselves homeless.
Andria Ivory
Andria Ivory is a native Memphian who attended Austin Peay State University and graduated from the Columbia School of Broadcasting. Andria began her radio career in 2000 with AM 990 "The Light". She also hosted the afternoon drive for AM 1480 WBBP from 2002 through 2004. Andria resumed her pursuit of her passion in radio in 2014 by joining the WLOK Morning Show.

Andria accepted her calling to preach the gospel in 2003, under the leadership of Bishop William and Pastor Dianne Young of the Healing Center Full Gospel Baptist Church. This is where she gained her love for ministry by being active with the youth ministry for many years.

Andria is married to Minister Michael Tunstall and has 2 beautiful children. Andria is maintaining her love for ministry by working closely with her husband in youth ministry at Vision Outreach Ministries by specializing in the area of fine arts.

Andria is a fan of the NBA Memphis Grizzlies and the NFL Pittsburgh Steelers. She enjoys spending time with her family and is always looking for the opportunity to bless others.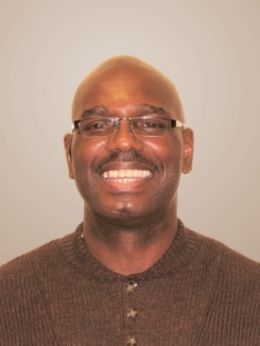 Doc Martin

Derwin "Doc" Martin is the newest member of the WLOK morning show heard each weekday from 6 AM to 10 AM. Doc began his radio career almost by accident. He and his wife were in the doctor's office with the owner of Flinn Broadcasting, radiologist Dr. George Flinn. Dr. Flinn liked Doc's voice and personality so much he hired him as part of the morning show on one of his radio stations, Hot 107 FM in Memphis, TN.

Doc is a native Memphian and graduate of Treadwell high school. He is a member of Mississippi Boulevard Christian church. Doc is also an honorary thesbian and member of Attaro theater company. He has appeared in movies as an extra. Hear Doc's great voice and vibrant personality along with Andria Ivory and Tim Stroud every weekday morning on 1340 WLOK , still a family tradition in Memphis.
Tim Stroud
Tim "I'm Saved and I'm Proud" Stroud
Tim Stroud attended Saint Augustine's College in his hometown of Raleigh, N.C. where he majored in Organizational Communications and became a writer on the campus newsletter staff (The Pen) and the Promotions Director for their on campus commercial radio station AM 750 WAUG....The Heart and Soul of Raleigh! Tim did his internship with WREG-News Channel 3 and in 1988 he began working for Flinn Broadcasting at stations AM 1210 WGSF and Sports 56 WHBQ. He also worked part-time for WMC-TV as a production assistant and camera operator. Tim worked at FedEx Express in Corporate Communications as a Communications Specialist and after 15 years he transitioned into teaching Media Concepts for Memphis City Schools.

Tim Stroud joined the WLOK Family in 2013 and became a team member on the C J and Company Morning Show in January 2014 as Coach Tim Stroud with the WLOK Stroud Sports Report. Tim also recently joined the WLOK Sales staff. He is a Minister, teacher and choir member at P.A.T.H. (Praising And Trusting Him) Ministries under the leadership of Pastor Elder Andre Davis. Tim has a loving mother in Raleigh, N.C. (Dora Stroud) and two beautiful children (Kourtney and Aydan). He earned his Masters Degree in Criminal Justice from Colorado Tech University. Tim Stroud is a fun-loving spirit and a real jokester who loves the Lord with all his heart as he gladly proclaims every morning with his opening, "I'm TIM STROUD....Say it LOUD.....I'm SAVED and I'm PROUD!!!!!"


Sheila Smith
Sheila grew up in the South Memphis Community. Upon graduation from Carver High School, she attended the University of Memphis, where she majored in Broadcast Journalism.
Sheila accepted Christ as her personal savior at Bountiful Blessings COGIC under the leadership of Bishop Gilbert Earl Patterson.
She most recently united with Crusaders 4 Christ, under the leadership of Rev. Andrews R. Smith. Sheila is striving daily to experience a more intimate relationship with Christ. She is not ashamed of the Gospel, and willing to tell every man, woman, boy or girl that she meets: The wages of sin is death, but the gift of God is Eternal Life.
Sheila began her radio career as a volunteer in 1998 at AM 1480 WBBP under the guidance of the Dean of Gospel Radio, Brother James Chambers. She became full time at WBBP in 2000. She joined the staff of WLOK in 2010.
When she is not reading or meditating on the word of God, she loves to go for walks, watch television, going to the movies, dining out, shopping, and hanging out with her family
Email: ssmith@wlok.com
Delsa Fleming
Delsa Fleming, known as the "Fireball of the South," has been a personality with 1340 WLOK since 1982. She has received numerous local and national awards. She was awarded with a Stellar Award certificate for her contributions to gospel radio. She has also been recognized nationally among gospel radio's "Who's Who in Gospel Music."
Delsa "Fireball" Fleming is one of Memphis' most recognizable radio personalities. She has served as Mistress of Ceremonies for numerous programs and concerts throughout the city. She also served as host of a local gospel cable TV show; plus she has conducted many music workshops for various churches in Tennessee, Arkansas and Mississippi. Delsa is a member of the National Gospel Music of America Announcers Guild. She was born in Rossville, Tennessee and currently resides in Memphis. She attended Shelby State Community College where she earned a certificate of achievement for music. Delsa is the mother of three daughters and a son. In her spare time, she enjoys singing and reading.
Linda Covington
Linda Covington is a native of Water Valley, MS, graduated from WVHS and Rust College with a BA in Broadcast Journalism. Linda was crowned Ms. WVHS and Ms. Yalobusha 1990-1991 and was very active in the Valley. In college she was a Rust College-TV reporter, campus newspaper reporter and WURC 88.1-FM-radio personality. She confessed Christ at the age of nine and was appointed church secretary at her home church in W.V. at the age of 12. Linda was very active at Chapel Missionary Baptist Church (MBC), WV and at New Independence MBC, Coldwater, MS.
She's been Blessed to have worked with many different radio stations AM 990-The Light, 95.7 Hallelujah FM, V101.1, WDIA 1070 AM, FM 100, WBBP AM-1480, 1240 AM -WAVN, traffic reporter for WMC-TV5,and WHBQ Fox 13. She's even worked with Tri-State Defender, and Trinity Broadcast Network and International Radio Network USA Radio news.
Linda participates in community services, team-mom for Whitehaven Lady Tigers (volleyball, basketball) & AAU Lady All Stars, a member of Youth Ministry, It's a Girls World organization and Alpha Kappa Alpha.
Linda is a devoted wife to Minister James Williams, Jr., and mother to three beautiful, active young ladies Dominique, Dajonique and Destinique.
Her favorite scripture -"I can do all things through Christ, which strengthens me"- Philippians 4:13